Amenities at a Glance
Ground floor oceanfront swimming pool and kiddie pool
Ground floor indoor heated pool
6th floor lazy river, kiddie pool, and 2 spas
Third floor private exercise facility
Washers, dryers, and Jacuzzi tubs
A five-level parking garage is located in the building for the convenience of renters
All units have cable TV and high speed wireless internet service
Please Note: Not all outdoor amenities are available for use during Winter months. Please feel free to call and verify.
Monthly Winter Rental Rates
1 BR / 1 BA Oceanfront
$1033/Month
2 BR / 2 BA Ocean View
$1133/Month
2 BR / 2 BA Oceanfront
$1233/Month
3 BR / 2 BA Oceanfront
$1333/Month
3 BR / 3 BA Oceanfront
$1433/Month
4 BR / 3 BA Oceanfront
$1533/Month
Winter Rentals Available Oct - March
*Monthly rental rates for Laguna Keyes do not include linens and additional fees; surcharge may be added to monthly rate in March and October. Subject to change at any time without notice.
Ask a Question About This Property
We are here to help! Simply fill out the form below and we will get back to you as soon as possible.
Laguna Keyes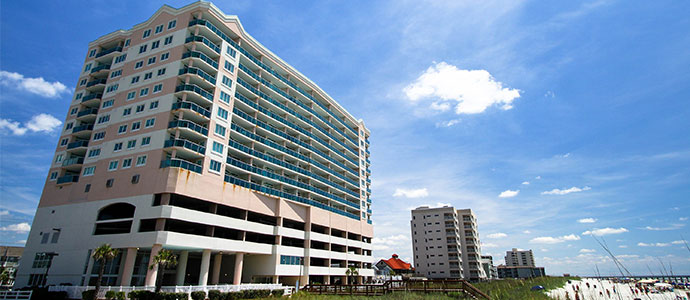 1 - 4 Bedroom Oceanfront Condos, 2 Bedroom Ocean View Condos
5700 North Ocean Blvd
North Myrtle Beach, SC 29582
P: (800) 624-6418
The amenities create a picture of the perfect oceanfront resort. Laguna Keyes is the sister resort to Blue Water Keyes and Crescent Keyes, and the same standard of quality and attention to detail makes this a great choice for your beach vacation. An oceanfront swimming pool, kiddie pools, lazy river, hot tubs, and an indoor heated pool will make you wish you never have to leave. Since we offer monthly rentals, you won't have to leave for a long time! Cable TV, Jacuzzi tubs, wireless internet, and a parking garage round out the many reasons people come back to Laguna Keyes again and again.














Ready To Book? Give us a call at
800-624-6418
.
Our reservations agents are available from 9 a.m. - 5 p.m. Monday - Saturday.